On the way from the Catskills to Chenango County, we stopped on a whim in Sidney, NY. While at first glance Sidney appears to have seen better days, it is alive with treats, deals and advice from locals.
We arrived via Main Street (Route 23) and parked in the gravel lot near Trackside Dining. I was thoroughly enjoying the preponderance of free parking upstate. A number of businesses along Main Street have closed due to the flood mitigation project and the street being torn up as a result, but don't let the lack of sidewalks deter you. Locals are keenly aware of how this situation affects commerce, and make up for its appearance by being extra helpful to customers.
Rainbow's End Consignment Shop
37 Main Street, Sidney, NY 13838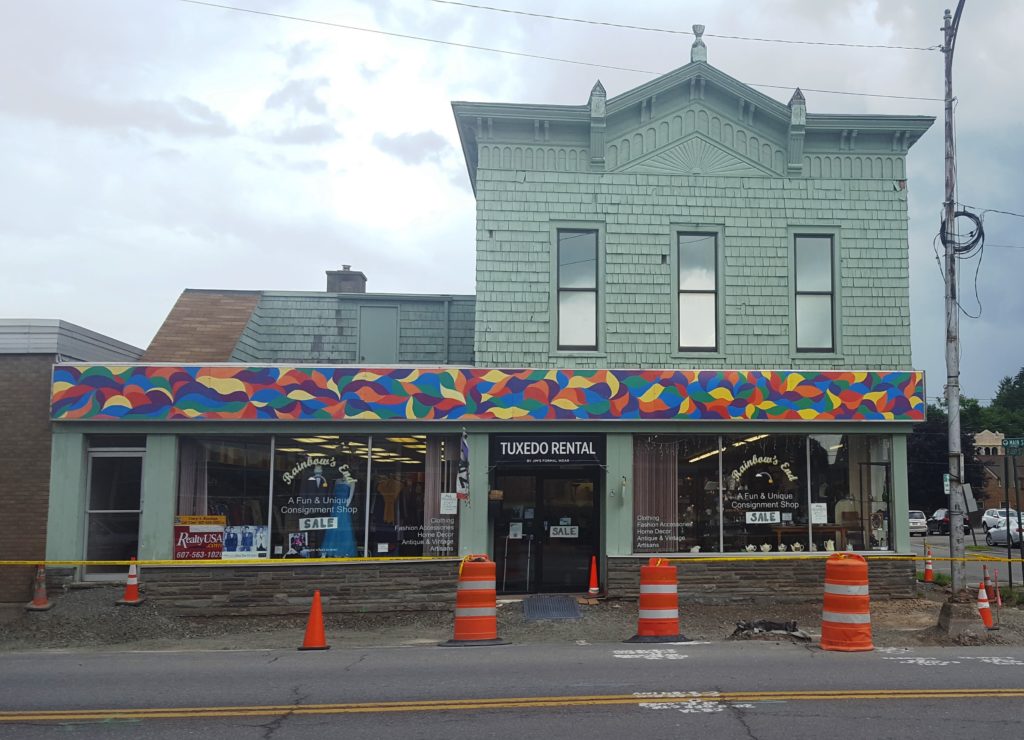 We passed another thrift shop that had closed for the day, but made our way through the construction to Rainbow's End, which was fortuitously open. Definitely worth visiting for secondhand blazers, books, tapes, and friendly recommendations from staff. As a petite and difficult fit, I was surprised to pick up two blazers, for $1 and $4 respectively, along with a variety of books. Finding The Face on the Milk Carton here has jumpstarted my rereading of the entire series, and also resulted in a non-facetious "what grade are you going into?" by a librarian back home in Westchester when I sought a subsequent installment.
We couldn't leave behind a copy of Sheer Terror – Beaten by the Fists of God, a small clue into the existence of hardcore somewhere in the vicinity. I wish I had brought some In Effect stickers. Overall this place was more worthwhile and less overwhelming than Mrs. B's, a mega thrift store in Norwich that we visited the next day.
A request regarding where in town we might acquire an iced coffee led to the recommendation of Treats N Eats…
Treats N Eats
21 Union Street, Sidney, NY 13838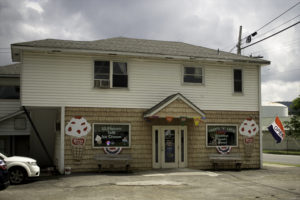 While Treats N Eats did not sell iced coffee, it did offer a variety of consolation prizes. We ordered the onion pedal (sic) and my degenerate travel companion requested a maple coffee milkshake. When the enthusiastic and knowledgeable Kelly asked what kind of ice cream I wanted, DTC interjected that I was lactose intolerant. She immediately offered Lactaid ice cream as an alternate base. Ironically, I've never seen Lactaid ice cream featured at a downstate ice cream spot, probably because it's not actually vegan and therefore only enticing to those with lactose issues, but I was happy to find it here.
Treats N Eats uses an old style ice cream machine that blends pieces of the chosen flavor with chocolate or vanilla ice cream, so I was able to order root beer flavored Lactaid ice cream (pictured below with an onion embellishment.)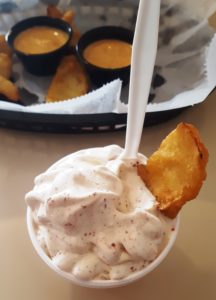 In the best of both worlds, Treats N Eats is under new management and therefore open later, but retaining their signature decadent offerings. Definitely worth a visit for the ice cream aficionado for whom Sidney's used book and clothing offerings are also a draw.
Distance to Points Elsewhere:
30 minutes from Oneonta (Trailways bus service from NYC)
Under an hour from Cooperstown
1½ hours from Scranton
3+ hours from NYC